CINNLÍNTE : BREAKING VERSE
A bilingual album of music and poetry which weaves the original music and traditional arrangements of two exceptional and boundary-pushing musicians, Steve Cooney and Rónán Ó Snodaigh, with the powerful poetry of Dairena Ní Chinnéide creating a combination of creative roots in West Kerry, Ireland.
Albam ceoil agus filíochta ar dhlúthdhosca úr a shníonn ceol nuachumtha agus ceol nua chóirithe ó bheirt des na ceoltóirí is eisceachtúla agus is iomadúla sa tír, Steve Cooney & Rónán Ó Snodaigh, le filíocht chumhachtach an fhile Dairena Ní Chinnéide. 
Digital Version
Leagan Digiteach
You can purchase and download the Full Album or Individual Tracks.
Ceannaigh agus íoslódáil an Dlúthcheirnín Iomlán nó Rianta Aonair
CD: Full Album posted to you
Dlúthchéirnín Iomlán seolta sa phost chughat
Click the Purchase Album button below to buy a physical version of the album that I will post out to you.
Only available in Ireland.
Brúigh an cnaipe Purchase CD thíos chun leagan fisiciúil an dlúthchéirnín a cheannach agus seolfadh sa phost chughat é.
Ar fáil in Éirinn amháin.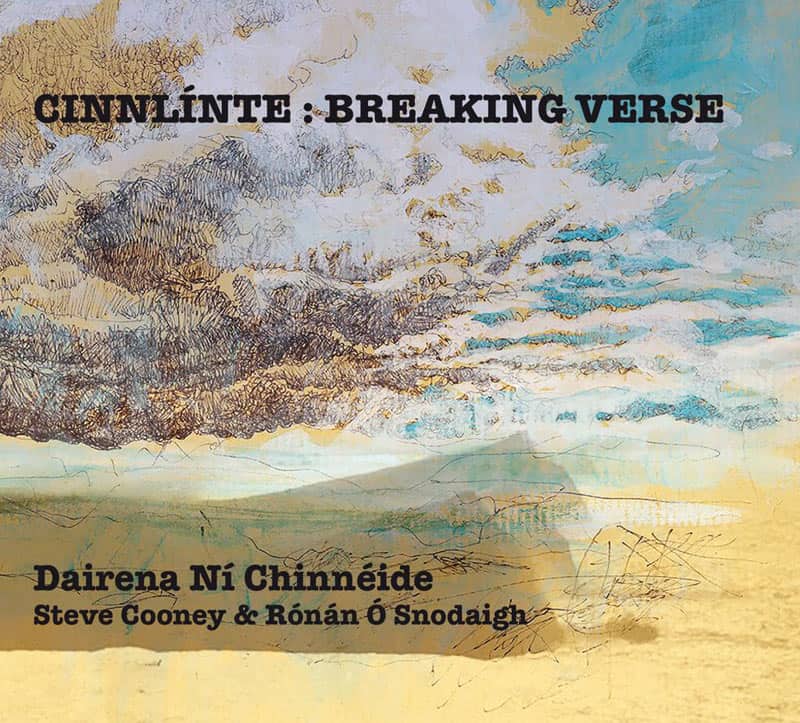 Words of poems in Irish with English versions for Tracks, 1, 2, 3, 4, 5, 6, 7, 8, 12, 14 published in Fé Gheasa : Spellbound (Arlen House, 2016) arlenhouse.ie
Focail do Thraiceanna 9,10, 11, 12 foilsithe sa chnuasach Tairseach (Éabhlóid, 2021) eabholoid.com
Taifeadtha i gCorca Dhuibhne. Recorded, mixed and mastered by Donogh Hennessy at Stiúideo Mhic an Daill, Dingle Co. Kerry.
Voice & text, tracks 1 -14 Dairena Ní Chinnéide
Gach ceart ar chóipcheart na ndánta le Dairena Ní Chinnéide. (c) Dairena Ní Chinnéide. Gach ceart ar chóipcheart ceoil ag na ceoltóirí (féach liosta traiceanna). (c) Steve Cooney (c) Rónán Ó Snodaigh. Traic 13, cóiriú ceoil agus guth (c) Éilís Kennedy.
Cover art Áine Ní Chíobháin www.ainenichiobhain.com
(c) Áine Ní Chíobháin 2022
Buíochas d'Éalaín na Gaeltachta, Foras na Gaeilge, Oidhreacht Chorca Dhuibhne, Colm Ó Snodaigh, Donogh Hennessey, Síle Denvir, Éilís Kennedy, Liam Carson, Claire Leadbitter, Alan Hayes, Eoghan Mac Giolla Bhríde, Rachel Holstead, Lelia Ní Chinnéide & Mike Donoghue.